Title Page
HELLO,
WELCOME TO
NORTHLEAF
Join our wonderful preschool classes and community where families play, learn, and grow together.
Now Enrolling
NOW ENROLLING INFANTS TO PRE-K
Join us for the 2023-2024 school year! Each of our classes is supported by an experienced teacher and parent educator, ensuring that both the children and their families get an excellent education throughout the school year.
Infants Class
CHECK OUT OUR
INFANTS CLASS
Did you have a baby this past year, or are you going to have one soon? Connect with other families with infants in our Infants Class!
Pre-K Class
CHECK OUT OUR PRE-K CLASS
Our Pre-K Class is an extension of our 3-5s Class for our older students. Students stay in class for an extra hour, getting individualized lessons tailored to their abilities and practicing their kindergarten-readiness skills.
Spanish Multiage Class
CHECK OUT OUR
SPANISH MULTIAGE CLASS
Now for children from six months to five years old and their caregivers. This Saturday morning class is taught by Maestra Leonor and is a great way to expose your child to Spanish.
Ahora para niños desde los 6 meses a 5 años en la cual podrán estar acompañados por sus cuidadores. La clase es orientada por la maestra Leonor los sábados en las mañanas y es una gran oportunidad de exponer los niños al lenguaje español.
Pre-K Class
Monday, Wednesday, Friday
Teacher Apurva
Age by 8/31: 4 – 5 years
Spanish Multiage Class
Saturday
Maestra Leonor
Age by 8/31: 6 mos – 5 yrs
Summer Classes
Tues or Wed or Thurs
Teacher Monica
Age by 8/31: varies
The early childhood years are filled with many exciting milestones. Children learn to move, talk, and actively explore and interpret the world around them. At NorthLeaf we foster a child's natural ability to learn and grow through play. Our wonderful teachers, sunlit classrooms, and spacious outdoor play areas provide a nurturing, stimulating, and safe environment for children and their families to grow through the early childhood years.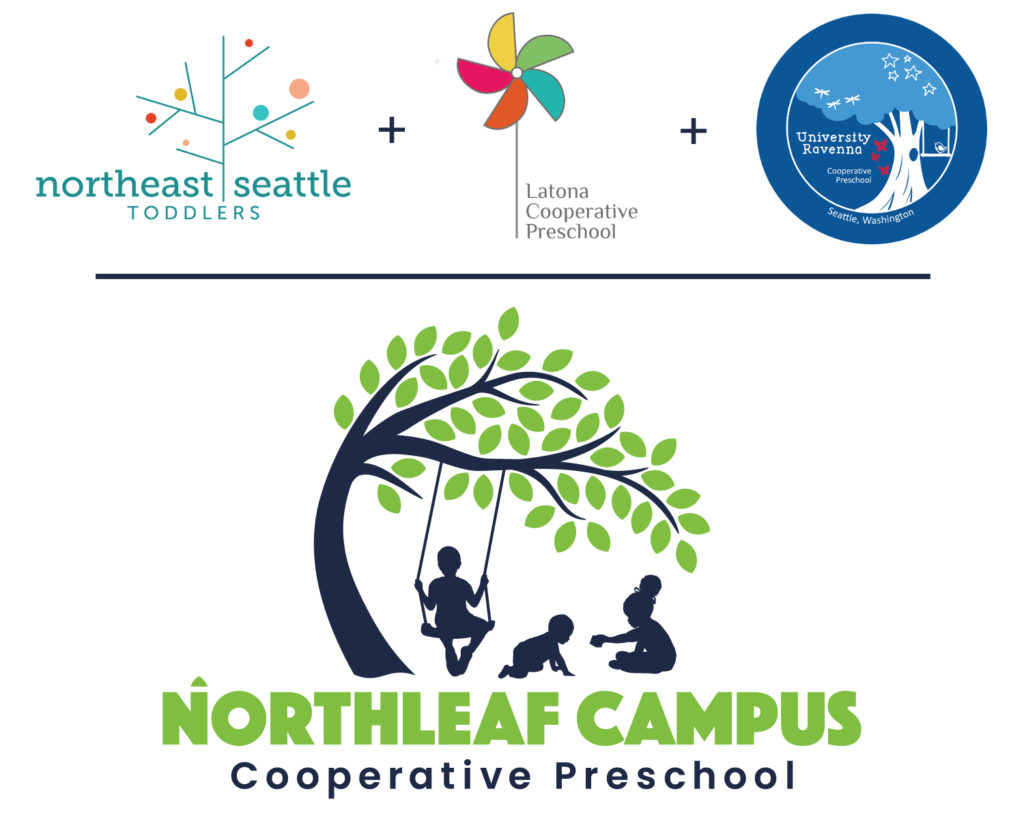 The name NorthLeaf Campus Cooperative Preschool came about in 2021 after the merger of four amazing and long-standing cooperative preschool programs – Northeast Seattle Toddlers (NEST), Latona, University-Ravenna (U-Ravenna), and On-Campus Infants. Our new name comes from our proximity to the Northgate and Maple Leaf neighborhoods in North Seattle and our location on the North Seattle College campus.
NorthLeaf Campus Cooperative Preschool is a cooperative preschool located on the North Seattle College campus. As the heart of the North Seattle Cooperative Preschool Program, our classes attract families from all over Seattle, near and far. We are located a few minutes from the Northgate, Greenwood, and Maple Leaf neighborhoods and within easy reach of the I-5 and the Northgate light rail station for those further away.
NorthLeaf works to facilitate a community of children who are free to wonder, discover, and experience. Our indoor classrooms, with their many windows and high ceilings, give children the room to spread their wings and expand their minds. Our multiple outdoor classrooms help our children grow their bodies and imaginations. Our play-based curriculum allows the innate playful nature of children to be the guide in the process of learning. We strive to cultivate classes that honor diversity by providing a warm, inclusive environment in which children can grow physically, emotionally, and creatively.