About NorthLeaf
NorthLeaf Campus Cooperative Preschool is a cooperative preschool located on the North Seattle College campus. As the heart of the North Seattle Cooperative Preschool Program, our classes attract families from all over Seattle, near and far. We are located a few minutes from the Northgate, Greenwood, and Maple Leaf neighborhoods and within easy reach of the I-5 and the Northgate light rail station for those further away.
NorthLeaf works to facilitate a community of children who are free to wonder, discover, and experience. Our indoor classrooms, with their many windows and high ceilings, give children the room to spread their wings and expand their minds. Our multiple outdoor classrooms help our children grow their bodies and imaginations. Our play-based curriculum allows the innate playful nature of children to be the guide in the process of learning. We strive to cultivate classes that honor diversity by providing a warm, inclusive environment in which children can grow physically, emotionally, and creatively.
We offer classes for children from infancy to pre-kindergarten.
Who we are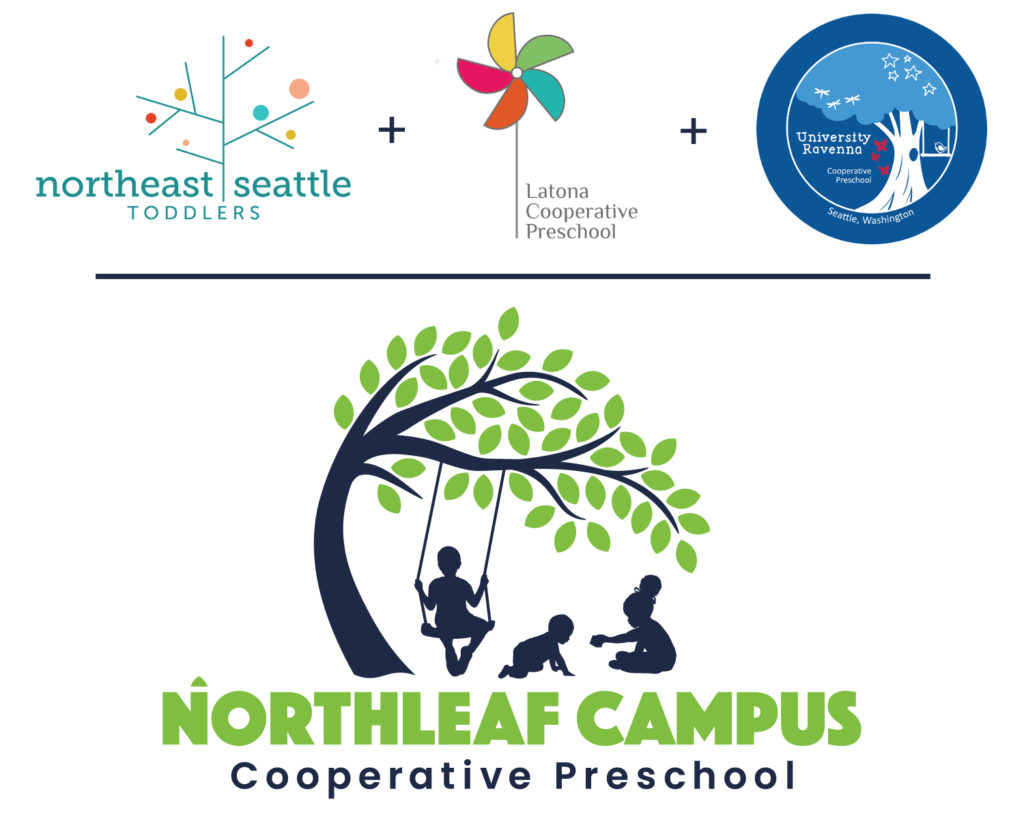 Our school formed through the merger of three amazing cooperative preschool programs – Northeast Seattle Toddlers Cooperative Preschool (NEST), Latona Cooperative Preschool, and University-Ravenna Cooperative Preschool (U-Ravenna).
Our new name comes from our proximity to the Northgate and Maple Leaf neighborhoods in North Seattle and our location on the North Seattle College campus.
We are so excited to have families from all three preschools coming together to create an even stronger and more robust preschool experience for everyone.
Our Classes
Our Classrooms
Our Teachers
What to expect
Cooperative preschool is about involvement. Children attend class each week – at least once with their parent, grandparent, or other caregiver – to engage in a fun, learning experience.
As the caregiver in class, you get the unique opportunity to play an integral role in your child's first educational experience. You can expect to work together with other caregivers and the teachers to create a safe, dynamic environment for the children to explore. Basic co-op duties include periodically providing snack for the class, helping with classroom cleanup, participating in school events, and holding a Board, committee, or class position for the year.
As the caregiver in class, you can expect to…
Learn more about child development;
Explore your own goals for your family;
Deepen your bond with your child;
Strengthen your communication and parenting skills.
Parent Education
NorthLeaf is part of the North Seattle College Cooperative Preschool Program. Their mission is to provide high-quality, affordable preschool education for children and education and support for parents. All of our classes have a dedicated Parent Educator who works with the class every week. The Parent Educator incorporates current research with the personal concerns and diverse experiences of our community in her lessons and discussions. Over the course of the school year, you can expect topics such as Early Child Development, Nutrition, Sleep Challenges, Temperament, Guidance, Adjusting to Parenthood, and more.
Parent education in the Infants Class takes place during class. For all other classes, parent education takes place both during class and at required monthly evening parent meetings.
Co-op Community
You can also expect to meet other families with children going through similar milestones, joys, and challenges as yours. One of the many benefits families experience while participating in our co-op is long-term family friendships. It's true when they say it takes a village, and a village is just what our preschool provides.
Tuition, FEES, and Fundraising
You are expected to pay monthly tuition to the preschool for your child, as well as quarterly tuition (three times per year) to North Seattle College for your parent education portion of the class. Also, there is a non-refundable registration fee. In addition, if you choose to park a vehicle on campus, there is a quarterly (three times per year) parking permit fee. Finally, every family has a goal of raising at least one month's tuition through fundraising over the course of the school year. See each class page for specific tuition and fee amounts.
If costs are prohibitive for your family, you can apply for a scholarship through our Parent Advisory Committee. See Scholarship Information.
Interested in joining one of our Classes?
Come in for a Tour
An in-person tour during class hours provides an opportunity for you to meet our teachers, see our classroom, and watch us in action. The tour will help you determine if our preschool will be a good fit for your child. We love our school, and we want you to know that you will, too.
We are located on the North Seattle College campus in the Instruction Building, rooms 1407 and 1304 (find us on Google maps). The street address is 9600 College Way N. The North Seattle College website has a clickable map of the campus, an outline of transportation options, and the most up to date permit prices. Parking on campus is by paid permit, but we have free load zone spaces for drop off, pick up, and tours. Street parking is also available just off campus.
submit an application
After touring our preschool and confirming it's a good fit, we encourage you to apply online. Applications will be processed according to the schedule set by the North Seattle College Cooperative Preschool Program. See our Admissions page for specific dates.
Your non-refundable registration fee is due within 48 hours of admission notification to accept a spot in our class.